Distinguished Flying Cross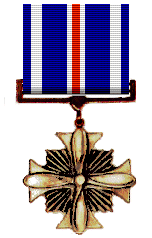 Awarded to ADJ2 Kerry R. Bignall



Authorized on July 2, 1926, and amended January 8, 1938. the Distinguished Flying Cross is awarded to any officer and enlisted member of the United States Armed Forces who shall distinguish themselves by heroism in an aerial flight, subsequent to November 11, 1918. The first award was made to Capt. Charles A. Lindbergh for his solo flight across the Atlantic. Order recipients include Commander Richard E. Byrd, for his historic flight over the North Pole, and aviatrix Amelia Earhart.

SECNAV Instructions 1650.1G (216 Page PDF File)
CHAPTER 2 - Military Decorations
Section 3 - Requirements
Page 2-16

6. Distinguished Flying Cross (DX)

a. Authorization. 10 U.S.C. 6245.

b. Eligibility Requirements. Awarded to any person who, while serving in any capacity with the U.S. Navy or the U.S. Marine Corps, distinguishes himself/herself by heroism or extraordinary achievement while participating in an aerial flight. To justify this decoration for heroism, an act in the face of danger, well above those actions performed by others engaged in similar flight operations, is required; for achievement, the results accomplished must be so exceptional as to render them conspicuous among those accomplished by others involved in similar circumstances.

(1) In adjudging the appropriate awards for the various members of a flight crew, it is considered that the pilot responsible for flying the aircraft is sometimes eligible for a higher award than other members of the flight crew. However, in a two-seat aircraft where the pilot and crewmember constitute a team and function as an integral part of the weapons system, both would generally be eligible for the same award. A crewmember other than the pilot should not be precluded from receiving a higher award if circumstances so indicate. Each case will be considered on its own merits.

(2) Establishment of a new aerial record does not necessarily qualify as an extraordinary achievement in aerial flight.

c. Combat Distinguishing Device. The Combat Distinguishing Device may be authorized for valor (heroism) after 4 April 1974.