VO-67 Association

OBServation SquadRON Sixty Seven




VO-67
Shipmate Awards

"These are representations of the various medals
that were awarded to some members of the VO-67 Squadron."
Navy Cross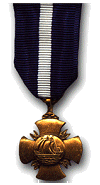 ---
CAPTAIN Paul L. Milius (MIA) Awarded
The Navy Cross




Tap To Enlarge!


Milius, Paul L. (MIA)
Captain, U. S. Navy
Observation Squad 67

Date of Action: February 27, 1968

Citation:

For extraordinary herosim on 27 February 1968 as an aircraft commander in Observation Squadron 67. During a combat mission in Southeast Asia, Captain (then Commander) Milius' aircraft received multiple hits from 37mm antiaircraft-artillery fire during a run over the assigned target. Immediately, the aircraft burst into flames, several members of the crew received injuries, and dense smoke and fumes filled the fuselage. Remaining at the controls to insure stable flight, Captain Milius ordered his crew members to bail out. As a result of his action, seven of his nine crewmen were rescued within three hours of bail-out. Rescue flights, however, were unable to locate Captain Milius. His heroic efforts and inspiring devotion to duty were in keeping with the highest traditions of the United States Naval Service.

---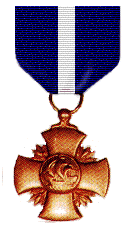 Authorized on February 4, 1919 and awarded to officers and enlisted personnel of the U.S. Navy and Marine Corps who distinguish themselves by extraordinary heroism, not justifying the award of the Medal of Honor, in military operations against an armed enemy. Originally awarded for combat heroism and other distinguished service, it was the Navy's third highest award. An Act of Congress on August 7, 1942 gave the Navy Cross precedence over the Distinguished Service Medal, making it a combat decoration only, awarded for extraordinary heroism in the presence of great danger and personal risk. It is now the second highest decoration for U.S. Naval personnel.













© Copyrighted 2001 - 2021 VO-67 Association - All Rights Reserved